Being diagnosed with cancer three times would be more than most people could bear, but mum Sam Reynolds has used her terrifying experience to help others face the disease.
Sam, 39, lives with her husband and seven-year-old daughter just outside of Guildford. She has been battling against cancer for 10 years and has now dedicated herself to providing solidarity and empowerment to other cancer patients as they near the end of their treatment and during their recovery as they adjust to life again. Her service, called SamSpaces, runs support groups, yoga sessions, parenting workshops and just someone to to talk to.
She tells her story...
"As we begin another new year, I have a small feeling of trepidation. It is as if I am staring down the steep descent of a mountain (and I'm not wearing skis!). I feel it every January and even though I finished my cancer treatment three and a half years ago, it never goes away completely.
Twelve years ago in December I was diagnosed for the first time, with hormonally receptive stage 2 breast cancer - I was 26. After a year of treatment and losing my then boyfriend as well as my hair, I was diagnosed with depression. I was naive to the fallout of my cancer experience and how far reaching the side effects would be.
Fast forward seven years, now with a hubby and baby in tow, I was diagnosed a second time at a routine check up. It was a secondary, in my clavicle and on my sternum. Since we were in the process of moving house and I had so much more responsibility this time, I dug my head in the sand and was diagnosed with post traumatic stress disorder (PTSD) two months after my radiotherapy had finished.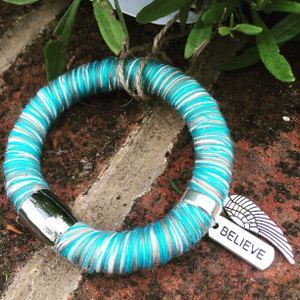 I began to blog about my experiences to offer solidarity and raise awareness of life after cancer to other younger patients. Then, in 2014, I was diagnosed for a third time. After a double mastectomy and reconstruction, the blog became a website. I began writing about all the proactive things we can do to help our wellbeing post cancer. The support had totally fallen away after my treatment finished. I was left grieving for the girl I had been, as well as suffering side effects from my maintenance drugs, fertility issues, fatigue and frustration.
SamSpaces became a space to empower others as they adjusted to life again after cancer as well as an online wellbeing resource. A physical support group grew and we now meet twice a month, in the Surrey area, once for a walk and a cuppa, then again around a workshop/talk or demo focused on a wellbeing activity. We run a free monthly yoga class, parenting workshops and we sell a beautiful SamSpaces bracelet.
I feel passionately about helping others post cancer and creating a network of local wellbeing professionals so patients can feel reassured, supported and less overwhelmed as they adjust to life afterwards. I do talks and run workshops for wellbeing days and breast cancer events where I meet the most amazing people who have all had their own journeys and just need to know that they can tap into this community as and when they need to, while taking those tentative steps forward. Recovery is such a personal thing but knowing that there are people who can empathise with the not-so-easy days, the check-ups and the anxiety, can make such a difference to our overall wellbeing, helping us feel stronger and brighter.
FB-@samspaces

Instagram - @Samspaces_asafespaceaftercancer

Twitter - @samspaces