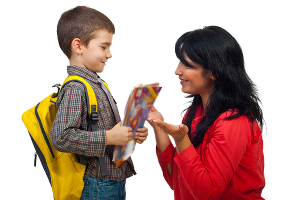 From the latest lunchbox trends to cake baking competitiveness, starting school is a daunting time for parents as well as children!
When my eldest started school I remember feeling the fear of entering into a classroom full of 30 strangers, not knowing where the loos were or where to put anything. Clearly my four-year-old had a different outlook as he just bumbled in, happy as Larry, saw the fire engine and jumped for joy at the fun he would have and the new friends he would make. I, on the other hand, was still stuck in the cloakroom fathoming out where to put said coats, book bags and caps. I then realised with horror that there was a trolley filled with multi-coloured, fully named drink bottles! Oh the shame! I had been unaware that I was supposed to provide a drink for my child. This was one of many faux pas on my part.

Another thing I hadn't anticipated was the mindfield of the lunch box; what to include and what not to include. I'm sure it was easier for our parents - a soggy sandwich, a bag of crisps and a Kit-Kat did the trick. These days, striking the balance between the healthy and the cool snacks is pretty difficult. As soon as I've caught up with which latest twisty cheese string to buy, they bring out something new and much more popular.
As a parent you're terrified to get any of this stuff wrong, after all, what will the teachers think of you? You don't want to be discussed in the staff room as that awful mum who never gives her child a decent lunch! On the other hand, you have a heartbreaking image of your poor child sitting eating her dry stick of carrot whilst looking longingly at all the cool kids and their brightly packaged processed cheese or fruit, crafted into fun shapes or bits of string.
Parent mail, well that was new to me as well. It was a while before I finally realised I was missing important pieces of information like when to bring extra things in, which teacher was leaving, whether there was a collection or a trip to the pub for the mums! (the most devastating one for me as I love a glass of vino and a chit chat). Top tip: make sure from day one that you are on the list and in the know!
Some other tips worth sharing. Firstly, do not walk through the playground with a bag that reads: "i bloody love to ride my bike!" It was very quickly observed by the older children and was singled out by one young lady who asked me why I had a naughty word on my bag! Remember these kids can read!

Always, always have a handy, adult sized shoe box. You will need one at least once a term. I struggled to get one as I always tell the shops to recycle them for me and, not being much of a shoe kinda girl, I don't buy many pairs. Nightmare for harvest festival!

Keep all the tat from parties that you would normally subtly launch into the bin or recycling boxes. They are useful for the Christmas fair to fill Santa sacks or jolly socks/jars or anything else that needs to be filled and to be sold on to some poor unsuspecting parent (to keep for the next fair of course).

You are unlikely to get through a school term without being asked to bake cakes. If you can't bake, get your mum or mother-in-law to do it for you. I personally have no shame in doing this! There seems to be a bit of competition amongst some mums as to who baked what or who took in shop-bought cakes - big sin! Now I would say, and my friends would agree, that I am pretty competitive generally, but it's a cake for goodness sake! If you want to bake something (bearing in mind Christmas is busy) bake something and freeze it!

Most schools take book week very seriously and this involves fancy dress, so I would say be prepared. Try to think of cheap costumes in advance. At the end of the day, the outfit may not survive much beyond playtime anyway.

You will undoubtedly be accosted, 'erm, sorry, asked to contribute, to a fundraising project that the school is involved in. This will be a constant so always be ready with a handy bit of change as you never know when you may be pounced upon.
I'm sure there are many more tips worth sharing so please feel free to use the comments box below to share yours. Whatever happens, our little darlings will settle in and be well looked after at 'big school'. So my final tip is to embrace this watershed moment and make sure you make the most of a few hours of downtime each day as, believe me, it will be home time in a flash!
{jcomments on}