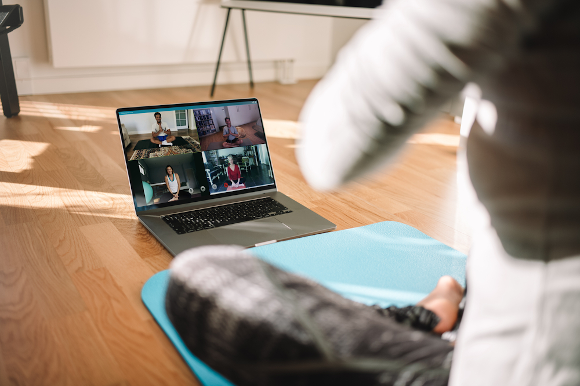 Lockdown has been hard on all of us in one way or of another and some people have turned to online fitness classes to keep in shape and in good spirits. Others have taken to conducting the classes, either to make money or, just like their audience, to keep spirits up and help people stay in shape as the nation battles through the Coronavirus crisis. If you're one of those looking to do a little good and offer some fitness classes online, here are some tips on how to put on a successful online class.
Ensure your fitness equipment is good quality
If you're going to take people through a weights workout or any other type of workout, make sure your equipment is in good condition and looks the part. Weights that slide off the end of the dumbbell because a dodgy clip on them keeps coming loose will ruin the session (and your credibility).
Note that 'second hand' doesn't necessarily mean a depreciation in quality. If you've had to buy bulkier equipment, such as a weights bench or an exercise bike, to conduct your classes, you may be able to buy perfectly good equipment second hand and then arrange for it to be delivered. Hiring a man with a van is cheap and spares you and the seller a lot of hassle when it comes to getting the bike from one home to the other.
Invest in a tripod and microphone
Buy yourself a good tripod. Sure, you can prop your phone up or camera up against something else, but you never know when it might collapse. You'll have to interrupt your own workout and everyone else's to reposition it if it does.
How far back should you position it? A distance of 12 feet between you and your camera would be good so you can see your whole body while you move. The camera should be at eye level.
You'll likely be playing music, too, so purchase a microphone. The class participants will enjoy the session more if they can hear your instructions properly and you're not yelling above the music just to be heard. If you're wearing a clip-on microphone, make sure it can't catch on any hair or jewellery.
Create a public playlist
Playing other people's music can land you in legal hot water if you're not careful. To avoid letters from the lawyers of angry record labels, encourage participants to create their own playlists to use during the workout or you can set up a public playlist, link to it and let the participants play it during the workout from their homes.
Check your engagement early
This isn't about admiring how many likes you're getting on Instagram or Facebook; it's about confirming everything is running smoothly at your audience's end. If they can't see you properly, can't hear you or are experiencing some other technical difficulty during the class, you can rectify it early on. You don't want to blast through the class only to find a technical glitch has prevented everyone from following you.
Offer form cues
Although you can't see your audience, you should try to make sure they're working out safely. Anticipate any movements that people have a habit of performing incorrectly. For each movement, prepare a form cue to help people complete the movement correctly, a progression to make the exercise more difficult and a modification to make the exercise easier.
Show personality
The workout room doesn't have to be void of personality. Inflect it with a few personal touches to warm it up. Just as importantly, have fun and show some personality when leading your workouts, so that the classes are engaging for your audience. Providing workout classes online is a unique way of teaching and you should display enthusiasm and enjoyment.
Note that when you conduct your classes, you're the leader and can run them how you wish. Enjoy the freedom to get creative and do something different so that your classes are inspiring and engaging. Just remember that they must always be safe and be effective, too. That must come before engagement. Always.