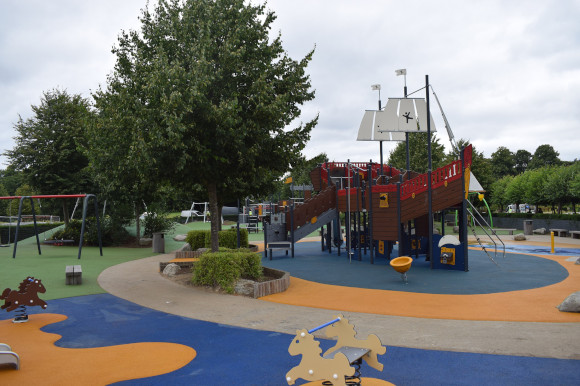 Priory Park's exciting nautical-themed playground has reopened this afternoon (Friday 19 July) in time for the start of the summer holidays. It follows a six-week refurbishment project to replace the 12 year old deteriorating equipment.
The popular Reigate play space is packed full of fun and challenging equipment, with something for children of all ages and abilities.
The centrepiece is the impressive new 'The Grey Lady' ship, complete with sails and a ship's wheel. The vessel features a tube slide, balance bars, ladders, a climbing net, hammocks and sensory play panels, all set over two decks.
'Priory Castle', a four-tower climbing frame, features two types of slide, a bridge, climbing net and a spiral 'curly climber' designed for children aged 4 to 12. The smaller two-tier 'Priory Gatehouse', aimed at 2 to 6 year olds, includes a slide, climbing net, firemans' pole and sensory play panels.
An exhilarating 25-metre double zip wire offers twice the fun as before, along with nine swings for a variety of ages, two types of climbing nets, a multi-seesaw with back supports, a wheelchair accessible roundabout, horse springers and spinners. The popular climbing wall and summer splash play remain and the overall layout and planting has not changed.
The design is multifunctional, with bold colours and a 360 degree design (accessible from all angles), which offers diverse play opportunities. It also has a greater sense of openness to make it easier for parents and carers to keep an eye on children of different ages using different parts of the playground, something users said they wanted.
The nautical theme fits with Priory Park's unique identity and historic setting.
Cllr Mrs Natalie Bramhall, Executive Member for Neighbourhood Services, said: "With visitors from all over the borough and much further afield, 12 years of fun had taken its toll on the playground equipment which needed to be replaced if the playground was to remain safe and useable.
"We hope children and their parents and carers will love the new equipment and the countless opportunities it offers for imaginative play for years to come. We took a number of steps to make sure design is inclusive for the wide range of children using the park. The new equipment has been built to last and will also be easier and more cost effective to maintain."
The Priory Park playground refurbishment is part of the Council's rolling programme of investment in its parks and greenspaces around the borough. It saw play areas in Chipstead and Kingswood upgraded last year, with plans being developed to upgrade Merstham Recreation Ground in future.