Pack your suncream, hats, jumpers and wellies and head out for a summer of family fun in and around Surrey.
Whether you're looking for some new experiences or hoping to head to some old favourites, our list of family friendly festivals, shows, carnivals and fetes in and around Surrey this summer should give you plenty to choose from. All you need to do now is hope for good weather!
Please remember to check your event is going ahead and in many cases book tickets before heading off.
Vann Fest – June 7-9
This is a local music festival aimed at families. The line-up includes local talent such as Broken Witt Rebels, James & Black, Imperial Daze and more. There will of course be lots of food and drink stalls, workshops for adults and children, comedy and free camping. This all takes place in Ockley in the Surrey Hills. Even better, the event raises money for The Royal Marsden Cancer Charity.
Website: http://www.vannfest.co.uk/
The Sustainability Fayre – June 8
This event celebrates a more sustainable way of life and includes a plant sale, veg shop, sewing souk, vegan food, kids' activities, live music, crafts and more. It takes place in Gostrey Meadow, Farnham.
Website: https://www.farnhamcommunityfarm.com/sustainability-festival-2019
Chiddingfold Village Summer Fete – June 9
A traditional fete with craft, gift and plant stalls, delicious food and fun packed arena events including tug of war, Punch & Judy and maypole dancing. dog show, falconry displays and live music.
Website: https://www.facebook.com/chiddfete/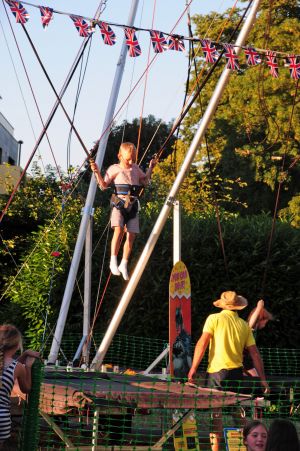 Horley Carnival – June 15
The theme for this year's Horley Carnival event is Moments in History. The day includes a carnival parade, a petting farm, sheepdog show, dance displays, tractor rides, interactive characters from Animatronic, an evening firework display and much more.
Website: http://horleycarnival.co.uk/
Frensham Fayre – June 15
The clowns are in town for this year's circus themed Frensham Fayre. There will be thrills and spills inside and outside a 'big top' at the Hollowdene Recreation Ground. The day will also include a circus parade with special guest Dumbo, a circus school, live music, a dog show; pony rides; Punch and Judy, food and gift stalls, a classic car display and a Party in the Park in the evening with music from Hounds of Sound.
Website: http://frenshamfayre.co.uk/
St John's Village Fete and Dog Show – June 15
An annual community event held including live music, dance displays, BBQ, beer tent, refreshments, children's crafts, coconut shy, games, stalls and a fun dog show.
Website: https://www.facebook.com/stjohnsfete/
Englefield Green Village Fair – June 22
A packed afternoon of entertainment, food, drink and fun including the dancing dog performance and children's fairground rides.
Website: https://www.englefieldgreen.org.uk/fair/
Thamesfest – June 29
An event on the banks of the River Thames to raise money for Shooting Star Chase Children's Hospices. There will be 10 hands on interactive sessions for children; kids' entertainment including Peppa Pig, rides, pony rides, soft play and football darts; arts and crafts; classic cars; a dog show and lots of live performances.
Website: https://thamesfest.com/
Hythe Park anniversary event – June 29
A free day of celebrations to mark the tenth anniversary of the park. Activities will include live music, lots of taster sessions, nature walks, family activities, food, stalls, refreshments, games and face painting.
Website: https://www.runnymede.gov.uk/article/17980/hythepark2019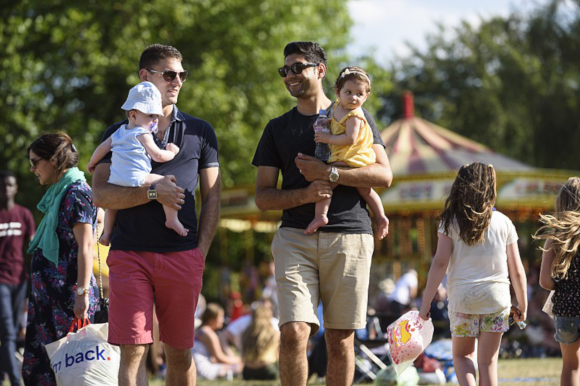 Farnham Carnival – June 29
This year's theme is Fly me to the Moon. After the procession, there will be live entertainment, music, side stalls, a bar and food in Gostrey Meadow. The day raises money for local charities.
Website: http://www.farnhamcarnival.org.uk/
Cranleigh Show – June 30
A fun day out for all the family where you can meet farm animals, watch ferret racing, admire working gun dogs, try country sports and buy country crafts and enjoy food and drink.
Website: https://www.cranleighshow.co.uk/
Party in the Park – July 6
This annual summertime celebration in Woking Park is free to attend and offers a packed programme of family entertainment and fun activities for children. Attracting upwards of 10,000 visitors throughout the day, regular crowd-pullers include championship tennis on the big screen, live music to swing along to, thirst-quenching craft beers, a sizzling hot food village, funfair, and a varied selection of captivating street theatre and dance.
Website: https://www.celebratewoking.info/party-in-the-park
The Bourne Show – July 6
This is a traditional village show including live music, bubble football, Punch and Judy, a dog show, magic show, kids' races, classic and vintage cars and more. The event raises money for local causes. The show is followed in the evening by the Big Bourne Bash with music, food and drink.
Website: http://www.thebourneshow.com/
Godalming Food Festival – July 7
Internationally themed street food, produce and locally produced beer, gins, champagnes and cider will be on offer throughout the town as well as a great line up of live music and entertainment at The Pepperpot. Kiddies Corner in Crown Court will include food related activities, the Dobby Horse Carousel, Punch and Judy shows and an exciting line-up of local artists.
Website: http://godalmingchamber.org/2019/04/food-festival-on-sunday-7-july-2019/
Gatton Country Fair – July 7
A great day out for all the family with animals, country crafts and demonstrations, children's activities and a fun dog show.
Website: https://gattonpark.com/odftp.html
Mini Monster Fest – July 20
Music and entertainment festival and fun day for kids and the family including DJs, artists, live bands, bouncy castles, face painting, a charity raffle, candy floss, fun and games and much more.
Website: https://www.eventbrite.co.uk/e/mini-monster-fest-2019-tickets-62136367548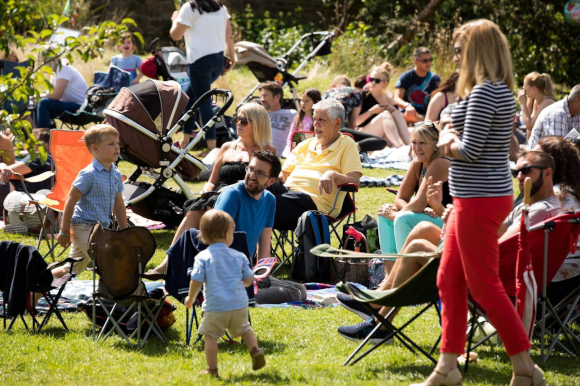 The Ripley Event – July 20
This is a popular annual event in the village of Ripley including live music, dancing displays, a rock choir, children's entertainment, food and drink stalls, vintage and classic vehicles, children's races, a dog show and much more. Money raised goes to local and national charities.
Website: http://www.ripleyevent.org/overview.htm
Albury Music Festival – July 21
Albury is a FREE live music festival and an important showcase for many talented musicians from the local area, many of whom also play both nationally and internationally. With a mixture of covers and original bands, the quality of performers is high. The event will raise money for local mental health charity Oakleaf Enterprise.
Website: https://www.alburymusicfestival.com/
Cheese and Chilli Festival – July 20 & 21
An amazing array of flavours, colours and experiences awaits you at this event, including chilli eating competitions, man v food challenges, cooking demonstrations, chilli sauce awards, children's activities, crazy golf, human sized table tootball, a family zone, falconry display, tastings and live music.
The festival takes place in Shalford Park, Guildford and is FREE for under 16s.
Website: https://www.guildford.gov.uk/visitguildford/16133?product=1363051
Staycation Live – August 2-4
Godalming's community music, food and arts festival with an ethos for showcasing a broad range of music, local food and entertainment. Acts can be seen on two stages and will include an eclectic mix of acts and bands ranging from folk to funk, electro swing to folk and ska to hip-hop. This is a family friendly event and there is also a kids' zone.
Website: http://staycationlivefestival.co.uk/
The Loxwood Joust – August 3 & 4, 10 &11
A spectacular medieval and jousting festival taking place over two weekends in Billingshurst, West Sussex.
The event includes workshops, jousting demonstrations, displays of weaponry, archery and cannon fire, the Living History Village and the Children's Kingdom – a festival within the festival where they can try archery, face and wound painting, pelt the peasant, sword school and the bouncy castle.
Website: https://loxwoodjoust.co.uk/
Frimley Lodge Live - August 3 & 4
This event fills a whole weekend with music tribute acts live from Frimley Lodge Park and is a fantastic event for the whole family.
The line-up includes Abba Fever, The Country Chix, Some Guys Have All The Luck, The Bohemians (Queen tribute), Black Magic – The Little Mix Show, Kylie on Show, Madonna Vogue, The Amy Winehouse Experience and Adele Songbook.
Website: https://www.camberleytheatre.co.uk/events/frimley-lodge-live-2019
Sun and Moon Wellbeing Festival – August 4-11
A week of wellbeing events for all the family with workshops, activities, live music, dance sessions, cinema, walks and much more.
Website: https://www.sunandmoonfestival.com/
Chertsey Agricultural Show – August 10 & 11
This event will include a main show ring with a huge range of displays including camel racing, heavy horses, tractors and pony showjumping. There will also be dog shows, children's competitions, car and motorcycle displays, a donkey show, all the usual show classes for animals and much, much more.
Website: http://www.chertseyshow.co.uk/welcome/4518267646
This is described as a premium boutique style music festival with great food and drink, clean and posh loos, a lovely camp site with hot showers and music across four stages. There is also drama and creative arts workshops for children and more. The line-up this year includes The Brand New Heavies, Reef, Lightening Seeds, The Selecter, Gabrielle and Scouting for Girls.
Website: http://www.weyfest.co.uk/
Wildflowers Festival at Hobbledown - August 16-18
This is three days of family festival fun including live music, paint throwing, music and dance workshops, theatre, walkabouts, magic shows, circus entertainment, craft stalls, street food market, bar and much more.
Victorious Festival – August 23-25
This is a very family friendly music festival in Portsmouth. The line-up this year includes Two Door Cinema Club, The Specials, Rudimental, New Order, The Hives and many more.
The kids' arena includes the Octonauts, Mr Bloom, Peppa Pig, Transformers, Disney princesses, Jedi training, a beach area, workshops, arts and crafts, inflatables, a baby change tent and more.
Website: http://www.victoriousfestival.co.uk/
Egham Royal Show – August 24 & 25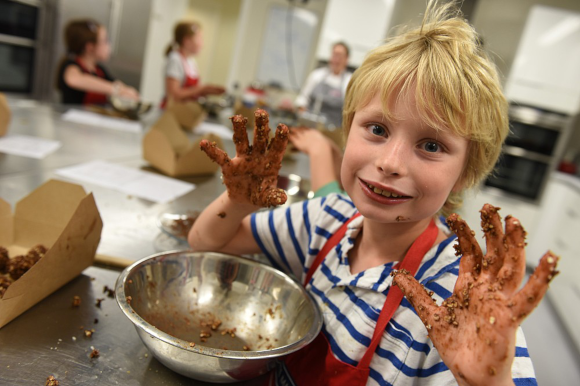 The show will include livestock, horticulture, junior GP cars, stunt shows, vintage & classic car show, dog shows, music, performing arts, falconry displays, pony racing and lots more.
Website: http://www.eghamroyalshow.org.uk/
Godstone Fete and Donkey Derby – August 26
As well as the donkey derby, there will be fairground rides, inflatables, Punch and Judy, music, tombola, coconut shy, a dog show, gymnastics show, food and drink stalls and more.
Website: http://www.godstonefete.co.uk/
Peaslake Summer Fair- August 26
Fun for all the family, including bouncy castles, Punch & Judy, face-painting, fun dog show, welly wanging, roller-ride, coconut shy, food, drink and music.
Website: https://www.facebook.com/PeaslakeSummerFair/
Woking Food and Drink Festival – Aug 30 – Sept 1
This free festival takes place throughout Woking town centre and includes cookery demonstrations, stalls, tastings, interactive activities and entertainment. The line-up will include popular celebrity and Michelin star chefs.
Website: https://www.wokingfoodanddrinkfestival.co.uk/
The Surrey Chilli Festival – Sept 7 & 8
A food festival event with a chilli theme including food stalls, market place traders and drink outlets, inflatables, competitions, tasting and games as well as entertainment on a main stage. This all takes place in East Molesey.
Website: https://www.allinone.events/events/food-drink/surrey-chilli-festival/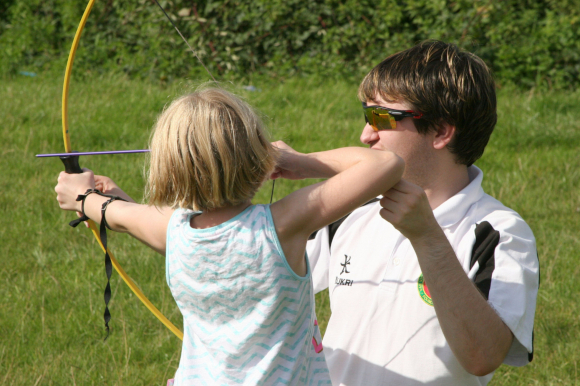 Cranleigh Folk Festival – Sept 13-15
The festival will have two live music stages and a village tent showcasing performing arts and workshops. There will also be a food village a range of amusements for all ages and camping facilities. The line-up includes Kissed and Crowned, Martin Barre, Katy Hurt, Emilia Quinn, Emma Stevens and Benji Kirkpatrick.
Website: https://cranleighfolk.com/
Surrey Hills Food Festival – Sept 14 & 15
This event takes place at Denbies Wine Estate and will include over 50 food and drink producers, tastings and a festival kitchen packed with demonstrations, talks and more.
Website: https://fantasticbritishfoodfestivals.com/surrey-hills.html
Cheam Celebration of Food and Drink – Sept 15
This is a free event with lots of opportunities to explore and learn about food. It also includes live music and a kids' zone with workshops, inflatables and more.
Website: http://cheamcelebration.co.uk/the-festival/
Farnham Food Festival – Sept 29
Sample some delicious foods, get some tips from chefs, watch cookery demonstrations and enjoy live music from local talent – what's not to like!
The festival hosts over 100 producers selling a variety of products and takes place in Castle Street.
Website: https://www.farnham.gov.uk/things-to-do/town-council-events/food-festival-application?print=print
Guildford Book Festival October 6-13
Events take place at venues across the town over 10 days and include appearances by high profile writers and plenty of events for children. See the website for more details of individual events.
Website: http://www.guildfordbookfestival.co.uk/
All these events have something for both adults and children to enjoy so we're sure you'll have some great days out! Please let us know of any we have missed.