Cute, slimy, high tech, magical and scary – this year's list of must-have toys has it all. So if you are wondering what the latest toy craze is this year, the annual top 12 toys list should be able to give you a few ideas for your Christmas shopping.
Barbie Ultimate Kitchen, by Mattel - £49.99
Cook up fun with a kitchen playset featuring lights and sounds, food moulds a sandwich maker and many more ingredients for imaginative play with Barbie.
Paw Patrol Ultimate Fire Truck by Spin Master Toys - £69.99

An ultimate rescue needs an ultimate vehicle! Save the day with Marshall's Ultimate Rescue Fire Truck! This vehicle is equipped with an extendable 2ft ladder, flashing lights and sounds! Using the water cannon launcher at the bottom of the cab, you can send up to three water cannons (included) flying into the fire!
Cra-Z-Slimy - Super Slimy Studio by Character Options - £29.99
A kit to make your own amazing Super Slimy Creations! Includes everything you need to make your own slime combinations – glitter-effects, rainbow colours, plus much more. Mix, invent & create! Encourages STEM learning.
Fingerlings Untamed Jailbreak T-Rex Playset by Jazwares/WowWee - £24.99
A ferocious T-Rex in a cage for you to release and try to tame if you dare. This interactive character has glow-in-the-dark eyes and of course, being a Fingerling, sits on your finger.
Harry Potter Hogwarts Great Hall, by LEGO - £89.99
This present idea combines two crazes that are never going to go out of fashion! Build your very own great hall with a fireplace, benches, tables and reversible house banners, plus the Grand Staircase tower with a spiral staircase, potions room, treasure room, sorting hat, Mirror of Erised and lots of magical artefact accessory elements. This fantasy role-playing castle toy includes 10 minifigures and buildable Basilisk and Fawkes creatures, plus Hedwig and Scabbers figures.
Harry Potter Wizard Training Wand by Jakks Pacific - £24.99
Learn 11 different spells with the help of this interactive training wand. Each wand includes five modes of play: two modes of standalone play and three modes to play with a friend. The light-up button allows them to select which mode to play.
L.O.L. Surprise! Pop-Up Store by MGA Entertainment - £39.99
This is a three in one playset, display and carrying case. Take your dolls out on the town! Play areas include chic café, fashion boutique and pizza parlour. The display holds over 55 dolls and accessories. Set includes an exclusive L.O.L doll.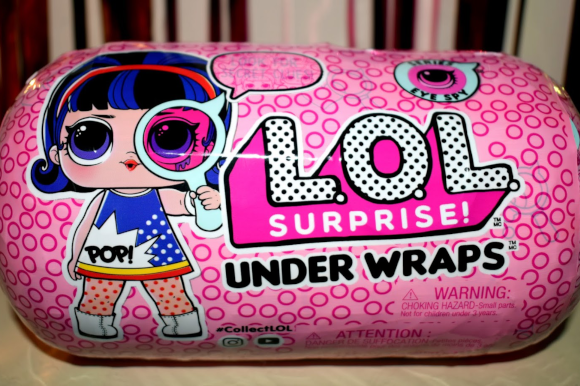 L.O.L. Surprise! Under Wraps, by MGA Entertainment - £14.99
Each doll has 15 surprises. Unbox the spy glass to find codes and unlock surprises. Each doll is dressed in a mystery disguise, unbox each layer to discover who's inside. The disguise becomes multiple fashion accessories. Mix and match outfits for tons of looks.
Lazer X Twin Pack by Character Options - £49.99
The ultimate high tech game of tag! Play inside or out, day or night. Works up to 60 meters away with pinpoint accuracy. Gameplay allows unlimited players. As you are blasted your receiver vest will gradually change colour, hit ten times and you're out!

Monopoly Fortnite Edition, by Hasbro - £21.99

In this edition of the classic game, players claim locations, battle opponents and avoid the storm to survive. The gameplay, design, and components of the board game include elements inspired by the video game including Fortnite locations and loot chest cards. Instead of MONOPOLY money, players earn health points.
Boxer – interactive AI robot toy, by Spin Master toys - £79.99
Equipped with multiple IR sensors, Boxer responds to hand movements and interacts with you using real-life responses, funny expressions and sounds.
Poopsie Surprise Unicorn by MGA Entertainment - £49.99
Poopsie Surprise Unicorn magically poop slime! Each time you feed your surprise unicorn and sit her on her glitter potty, she creates surprise, collectible unicorn poop (slime)! Transform your unicorn poop over and over again with Unicorn Magic! Over 20 magic surprises included with each Surprise Unicorn!
Please note the prices are all the RRP and you may be able to find different prices, deals and offers.
The top 12 list has been compiled by Dream Toys - the official toys and games Christmas preview. The Dream Toys Association represents the majority of the toy trade.