SUMMARY
A Meccano car kit with 90+ parts that builds two different models. A toy of two parts, fun to build if your child is keen on that and also fun to play with afterwards. Well packaged and definitely a "complete" toy that you can use then pack away to bring out another time with little chance of losing all the bits.
MANUFACTURER: Meccano
RECOMMENDED AGE: 7-14 years
INDIVIDUAL CATEGORY RATINGS
EASE OF USE
My 7-year-old couldn't wait to open the kit and get started. He found the building instructions easy to read and understand. The instructions were clearly detailed step by step. Each component part was clearly pictured according to how many of each part there was and how each part connects to together. The necessary tools were provided. However, some children may struggle holding the smaller pieces in place whilst fixing them together and a grown up may need to assist at times. Patience will be required!
DURABILITY
Once the car was built, my son had plenty of fun playing with it. It was "launched" several times from the sofa onto the floor and stayed in one piece! However, after a while, some of the smaller parts needed to be tightened with the tools provided. This maybe because my son didn't have the strength in his hands that an older child may have when tightening the screws.
VISUAL APPEAL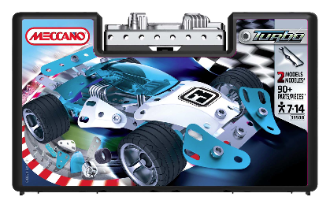 The packaging is cool and very appealing to a boy. The parts come in their own case with a funky picture of the racing car on the front.

FUNCTIONALITY
The case is a great idea because all the spare parts can be kept together with the tools and are less likely to get lost or go missing. There are two models to build so when the child gets fed up playing with one model, they can easily take the car apart and build the second model. Certainly for ages 7-8, this kind of toy would help with developing key motor skills and reading instructions in a fun way.

COST EFFICIENCY

This retails at about £17 in Tesco. This is real Meccano and you are getting two models in one set. The price is in line and typical of the price of other boys' construction/design toys you would find for this age group.

ORIGINALITY
A typical Meccano toy. Although the age states 7-14, it should really say 7-100! All it takes is fixing in one piece and you're addicted!

OVERALL RATING
My son really enjoyed building and playing with the Meccano Turbo racing car and when he got a bit stuck, dad was there to assist. A great toy for some special "father and son" time. An ideal "rainy day" toy for children and grown-ups to get involved with! An ideal "next step" toy for children who like playing with design/construction toys, such as Lego. Some may find it a bit on the expensive side but an ideal gift for birthday or Christmas.