SUMMARY
"A flying dragon ship" as described by the 8 year old who reviewed this toy. It is part of the Lego Ninjago collection. A large kit which comes with very clear building instructions. It includes six Ninjago character mini figures. The ship has many appealing features including the sails which flip in and out at the touch of a button, opening cockpit and plenty of weapons. For ages 8 years and over.
MANUFACTURER: LEGO
AGE RANGE: 6-14 years
RRP: £59.99
INDIVIDUAL CATEGORY RATINGS
EASE OF USE
The Lego pieces are in several sealed see-through packets and each packet is numbered. The kit came with two large booklets of instructions. Each page tells you which numbered packet of lego you should be using and shows very clearly where each individual piece goes by showing a diagram of how the model should look as you build it. Each page also shows which pieces you need for that particular part.
DURABILITY
The ship is not designed for "hard" play. Bits will fall off, but can easily be put back on again. The lego pieces themselves will last forever. As long as the instruction booklets are kept and pieces don't get lost, the model can be broken up and re-built as many times as the child likes.
VISUAL APPEAL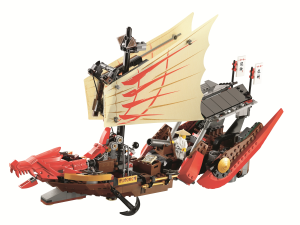 The ship looks amazing once built. Lego have put a lot of thought ino the design, and they have thought of everything, from moving parts to the small detail, such as secret doors which flip up to reveal hiding places for the weapons. The box and instruction booklets show how it will look once built, complete with "action" shots of characters doing their Ninjago thing on and around the ship. One picture was so appealing that my son wanted to play with it in the bath!
FUNCTIONALITY
Ultimately, this is a construction toy that can be played with once built. It has moving parts and small parts that will fall off, but will provide hours of fun and encourages imaginative play. Patience required.
COST EFFICIENCY
The RRP is £59.99. This isn't a cheap toy, but if you have a child who loves playing with and building lego, and they are in the right age bracket, then this would make an ideal gift. It can be broken up and rebuilt again another time (provided the instructions and pieces are kept safely!). It also looks good on display on a shelf somewhere in the child's bedroom.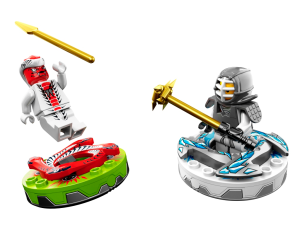 ORIGINALITY
This toy is a typical Lego construction toy aimed at slightly older children. Ideal for a 7-9 year old who has outgrown their smaller Lego kits and is ready for a challenge. Equally ideal for a slightly older child who simply enjoys building these kind of kits. It makes a refreshing alternative to the numerous computer games which this age range also enjoy playing.
OVERALL RATING
Another amazing piece of kit from Lego. Very clear building instructions. This toy will appeal to any child who is in to Lego Ninjago.
Find out more at ninjago.lego.com