Diary of a Surrey Mummy...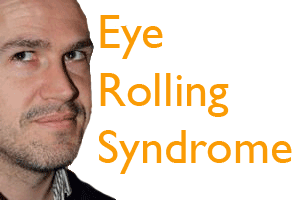 I have a question: does anybody else have a husband who permanently suffers from eye-rolling syndrome (ERS)? Because I do.
Take the other day. My Gorgeous Husband came home and, as we sat to drink a glass of wine together, I told him about my day. Admittedly, it was not my most efficient, task-accomplished, children fed, bathed and in bed with dinner on the table kind of day, but hey, nobody's perfect.
Anyway, I noticed the eye rolling start during my recounting of the cat sick incident. It continued through the hoover kerfuffle, culminating in an eye-rolling, mild head-shake combo by the time I finished with the 'whathappenedtothehundredsandthousands?' mystery. None of these mishaps were my fault, and in my book they count as pretty average occurrences in the life of a mum-of-two; but nonetheless I felt quite ashamed.
My poor Gorgeous Husband just can't grasp how I manage to spectacularly mismanage my time, kids and house to the point that any given day ends up like the script for a Carry On film. Actually, as we all know, it's terribly easy: you just go about your business in as organised a manner as you can, and sure enough various calamities will come your way.
None of this explains, however, why I deserve the eyeroll. After all, my role as mum is as much my job as working in the City is GH's. Do I roll my eyes at a failed pitch? No. At clients' unreasonable behaviour? Nope (I suffer enough of that from my own little clients). At delays to the end of GH's working day? Not a bit of it (although I do curl my lip a bit at requests for social work evenings out, but I consider that my right because who's left to babysit? Oh yes, that would be me).
So why the inequality? After giving it some thought, I have narrowed it down to two factors: good old fashioned boy vs girl, and many husbands' inability to let go of being the boss once back home.
With regards to the first: although GH is a thoroughly modern man, I am convinced that some part of him still feels I just can't do it as well as he could. Of course it's not my fault, it's just that girls tend to get themselves in more of a muddle. It doesn't matter that at work I managed a team/was highly successful/high earning (this isn't true by the way, it really is just an example), by the time you add a couple of little ones into the mix, my hormones jump all over my management skills and reduce me to a puddle of incompetence.
As far as the second factor is concerned: certainly from what I've seen, most husbands seem to feel this way; after all, they manage teams of people and negotiate business daily, so how hard can it be to manage a couple of sprogs? If one of their team members performed as poorly as their wife sometimes does, they would at the very least get a poor appraisal and an even poorer bonus.
I'm not for a moment suggesting that we aren't appreciated; by and large we are adored and spoiled. Our other halves know we work extremely hard and we couldn't be more dedicated to our job, it's just they can't help but feel we aren't always terribly good at it. They don't say anything of course (they don't have a death wish), hence the eye rolling.
Whatever the reason, I can't wait to see GH's reaction when he hears what happened to the car this morning.
We're sure that more than a few of you relate to this! We'd love to hear about your own 'Eye Rolling Syndrome' experiences in the comments box below.