Diary of a Surrey mummy...The etiquette for sports day?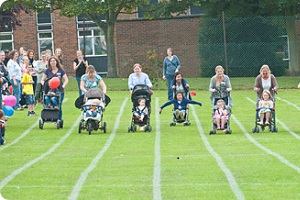 I flew past the finishing line in what felt like slow motion. I knew I was in first place because I felt the victory of the ribbon catch around my waist as I took those final paces.
My moment of glory was short-lived as I heard a distant screaming coming from below me: "You ran too fast mummy." (Sob, sob, sob). "You've hurt my arm." (Sob, sob, sob).
You see, I wasn't running in the Olympics, but the parent and child race at the school sports day. Just before we crossed the finish line my son fell and momentum meant I kind of dragged him over by his arm whilst he was flapping about on the floor. He then burst into tears and I looked like an uber competitive mum willing to dislocate child's shoulder in quest for glory. Oh dear, I thought he was having fun!
Some schools in the UK have replaced the traditional sports day with a non-competitive event, in an aim to avoid any humiliation for those who are not good at sport.
I'm not sure I agree with this. There is that old motto of teaching children it's the taking part that counts (even if I haven't demonstrated that sentiment very well myself!)
Maybe it is really the competitiveness of the parents these schools are trying to avoid. It is certainly easy to get sucked in.
I have seriously considered replacing bedtime stories with Eye of The Tiger on repeat in the run up to sports day to get my children into the competitive mood.

I have also often found myself getting annoyed at sports days when I count up and realise some children have been picked for four races while mine have only done two. My children are not bothered, they are quite happy, so why does it bother me? Go on, admit it, it bothers you too!
I can console myself that I'm not the only one. A friend recently confided that when watching her son's swimming lesson, she found herself deciding he should be fast tracked to the competitive squad, whilst thinking the other children surely needed to work on their technique! She's decided to take a magazine to read during future lessons…
And I am sure I heard a story recently about a mum 'accidentally' stepping on a rival child's foot during a gymnastics competition!
Some countries in Europe avoid competitive football for youngsters under a certain age, preferring to focus on teaching skills instead.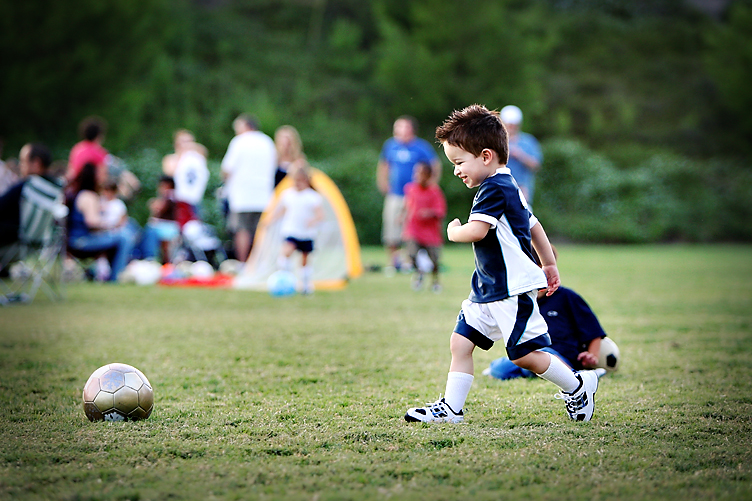 I can see why. For a mum who is not even that interested in football, I have increasingly found myself pitch-side at the Sunday morning matches acting like an England manager, shouting instructions at my son and muttering under my breath when other players don't pass him the ball! I just can't help myself, it's a natural instinct. Isn't it?
And when the opposing team first arrive at the match, we huddle around nervously as parents to discuss whether they look bigger or stronger than our players. Meanwhile, the kids are just milling around kicking the ball to each other and having fun, not taking it seriously at all, just enjoying themselves.
I suppose there is nothing wrong with a bit of healthy competition, but I do need to remember to wear flip-flops instead of running spikes at this year's school sports day – and perhaps I should leave my megaphone at home this year and just call out a few words of encouragement instead!
Tell us your funny stories of looking like a competitive mum.