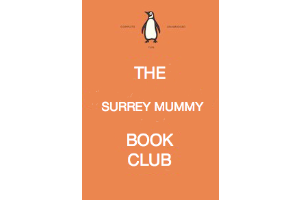 Thank you all for your brilliant nominations for Surrey Mummy Book Club's next read; it was really interesting receiving the suggestions and I think we have very appealing shortlist as a result!
So here they are. All you need to do is vote for the one you would like to read (you do need to be registered and logged in to do so). Voting deadline is 10pm on Sunday 27 May 2012. We will then have a month or so to read the winning book and we would love to see some new faces when we reconvene - albeit in a virtual world! - to discuss the book.
We've had some really great reads in the past and some engaging discussions, do have a look under the book club tab above if you want to get a feel for the club and please do come and join us for some friendly fun and lighthearted discussion!
Once you've chosen the book you'd most like us to read, click here to make your choice.
Remember that you must be logged in in order to view the voting buttons and you can only log in if you are registered on Surrey Mummy.


Click on the book title or image to view more information and to download a preview from the Waterstones website.

Caitlin Moran, How to be a Woman
It's a good time to be a woman: we have the vote and the Pill, and we haven't been burnt as witches since 1727. However, a few nagging questions do remain...Why are we supposed to get Brazilians? Should we use Botox? Do men secretly hate us? And why does everyone ask you when you're going to have a baby? Part memoir, part rant, Caitlin answers the questions that every modern woman is asking.
Kathryn Stockett, The Help


Jackson, Mississippi, 1962. Black maids raise white children, but aren't trusted not to steal the silver. Some lines will never be crossed. Aibileen is a black maid: smart, regal, and raising her seventeenth white child. Yet something shifted inside Aibileen the day her own son died while his bosses looked the other way. Minny, Aibileen's best friend, is by some way the sassiest woman in Mississippi. But even her extraordinary cooking won't protect Minny from the consequences of her tongue. Twenty-two-year-old Skeeter returns home with a degree and a head full of hope, but her mother will not be happy until there's a ring on her finger. Seeking solace with Constantine, the beloved maid who raised her, Skeeter finds she has gone. But why will no one tell her where? Seemingly as different as can be, Skeeter, Aibileen and Minny's lives converge over a clandestine project that will not only put them all at risk but also change the town of Jackson for ever. But why? And for what? The Help is a deeply moving, timeless and universal story about the lines we abide by, and the ones we won't. It is about how women, whether mothers or daughters, the help or the boss, relate to each other - and that terrible feeling that those who look after your children may understand them, even love them, better than you . . .



E L James, Fifty Shades of Grey
The runaway bestseller Fifty Shades of Grey is the controversial novel du jour! When literature student Anastasia Steele interviews successful entrepreneur Christian Grey, she finds him very attractive and deeply intimidating. Convinced that their meeting went badly, she tries to put him out of her mind - until he turns up at the store where she works part-time, and invites her out. Unworldly and innocent, Ana is shocked to find she wants this man. And, when he warns her to keep her distance, it only makes her want him more. But Grey is tormented by inner demons, and consumed by the need to control. As they embark on a passionate love affair, Ana discovers more about her own desires, as well as the dark secrets Grey keeps hidden away from public view...
Asne Seierstad, The Bookseller of Kabul


Two weeks after September 11th, award-winning journalist Asne Seierstad went to Afghanistan to report on the conflict there. In the following spring she returned to live with an Afghan family for several months. For more than twenty years Sultan Khan defied the authorities - be they communist or Taliban - to supply books to the people of Kabul. He was arrested, interrogated and imprisoned by the communists and watched illiterate Taliban soldiers burn piles of his books in the street. He even resorted to hiding most of his stock in attics all over Kabul. But while Khan is passionate in his love of books and hatred of censorship, he is also a committed Muslim with strict views on family life. As an outsider, Seierstad is able to move between the private world of the women - including Khan's two wives - and the more public lives of the men. And so we learn of proposals and marriages, suppression and abuse of power, crime and punishment. The result is a gripping and moving portrait of a family, and a clear-eyed assessment of a country struggling to free itself from history.
Jack is five. He lives with his Ma. They live in a single, locked room. They don't have the key. Jack and Ma are prisoners. 'This book will break your heart ...It is the most vivid, radiant and beautiful expression of maternal love I have ever read' - "Irish Times". 'Startlingly original and moving ...Endearing and as utterly compelling as "The Lovely Bones"' - "Scotsman". 'I've never read a more heart-burstingly, gut wrenchingly compassionate novel ...As for sweet, bright, funny Jack, I wanted to scoop him up out of the novel and never let him go' - "Daily Mail". 'This is a truly remarkable novel. It presents an utterly unique way to talk about love, all the while giving us a fresh, expansive eye on the world in which we live' - "New York Times Book Review".

Anne Enright, The Gathering


The nine surviving children of the Hegarty clan gather in Dublin for the wake of their wayward brother Liam. It wasn't the drink that killed him - although that certainly helped - it was what happened to him as a boy in his grandmother's house, in the winter of 1968. The Gathering is a novel about love and disappointment, about thwarted lust and limitless desire, and how our fate is written in the body, not in the stars.