Don't miss out on a great royal knees-up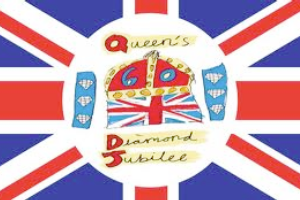 We are shocked to admit it, but some of us here at Surrey Mummy can remember taking part in the street parties of 1977 for the Queen's Silver Jubilee!
So, now it is time to celebrate the Diamond Jubilee, and there are plenty fun family-friendly events and activities taking place across Surrey.
The celebrations begin in Worplesdon, nr Guildford with a big free Diamond Jubilee Fayre on May 25. This event should really get you in the spirit with a royal fancy dress competition, Maypole dancing, demonstrations and displays, fun fair, traditional side stalls, bouncy castles, refreshments, races, football and more. The event will run from 4pm to 7pm at Worplesdon Memorial Ground.
See the Worplesdon Parish Council website.
We all love a good firework display, so why not pop along to the free Jubilee Firework Show in Egham on May 25. The evening will start at 7pm and include live music, fairground rides and refreshments before the big display at 9.30pm. This is being held at Strode's College Playing fields, off the High Street.
See the Egham Chamber of Commerce website
The Surrey and Hampshire Canal Society is holding a free Canalside Jubilee three-day event from June 2 at Frimley Lodge Park, Sturt Road, Frimley Green. There will be live music, fair rides, a bouncy castle, fun competitions, boat trips and more.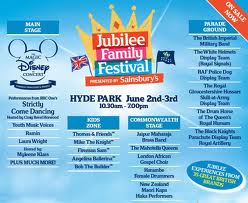 See the Surrey Heath Borough Council website.
The Jubilee Family Festival in Hyde Park, London looks amazing. This event, organised by Sainsbury's, takes place on June 2 and 3.
Highlights include a main stage, which will include many big name acts as well as a Disney concert; a kids' zone with favourite characters such as Fireman Sam and Angelina Ballerina; a Disney zone and plenty of street/circus entertainment.
Tickets need to be bought in advance and cost £52.
See the Sainsbury's website.
Farnham is hosting a Jubilee Fun Weekend from June 2-3. Events include an open-air church service in Gostrey Meadow on the Sunday morning, followed by a Jubilee Picnic organised by Farnham Town Council. The picnic promises to be a 'Pimms and Proms' style event with live music. Visitors are invited to take their own picnic, enjoy cream tea, strawberries and cream (and the odd Pimms), whilst children can enjoy the Teddybears' Picnic and have their faces painted.
See the Farnham Town Council website.
On June 3 Cobham will be hosting their Have A Field Day free community event to celebrate the jubilee and Cobham Recreation Ground's new status of QEII Playing Field. Residents will be treated of a full programme of celebrations including Maypole dancing, a parade, sports and other activities on Cobham Recreation Ground, children's rides, live music and a big lunch.
See the Elmbridge Borough Council website.
Celebrate in Byfleet with a family picnic at Byfleet Village Recreation Ground, Rectory Lane, on Sunday 3 June, between 1pm and 7pm, with live music, pony rides, kids' inflatables and much more. Call Cllr Esther Watson Green on 01932 345702 for more information.
The Haslemere Diamond Jubilee Celebrations will get started in Haslemere at about 1pm on June 4, when the carnival procession will line up in High Lane. The parade will start at 2pm and head through the town to Lion Green for a huge community tea party. The party will include live music, stalls, a children's corner and much more. In the evening there will be a torch-lit procession to Gibbet Hill, where a beacon will be lit.
See the Haslemere Diamond Jubilee website.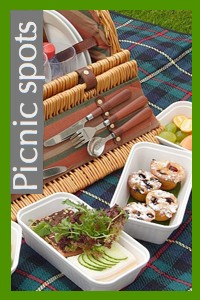 If you fancy relaxing with a picnic in the park, there will be free live music from Cobham Band at Churchfields Recreation Ground in Weybridge from 2pm to 4pm on June 4. This event is for adults and children and is free to attend.
Visitors are invited to look at the new carpet bedding, planted especially to celebrate the Jubilee, and there will be refreshments available at the Weybridge Centre for The Community.
See the Elmbridge Borough Council website.
The Brockham Harness Club is planning a Carriage Drive through and around Dorking on Monday, June 4. It is hoped that a wide variety of carriages with members and friends will take part in the drive to celebrate the 60th anniversary. See the club's website for more details.
See the Brockham Harness Club website.
The Godalming Jubilee Run is for those who want to celebrate the event with a bit of exercise. This 1.2k family fun race will take place on June 4 and is free to enter, but runners must register in advance. There will also be 10km and 5km races.
The event has been organised by the Waverley Harriers, in association with Sport Godalming and Godalming Town Council, and will start and finish at The Pepperpot in the town centre.
See the Godalming Jubilee Run website.
Godalming will also have a Jubilee Music in the Park event on June 4 at Phillips Memorial Park from 6pm-around 10.45pm, followed by the Godalming Lions' torch-lit procession, and the lighting of the Jubilee beacon and fireworks display.
See the Godalming Town Council website.
Polesden Lacey will be hosting a community event on June 4 by lighting one of over 2,000 nation-wide beacons! With music, games and fireworks, there will be lots to keep the family entertained. The gardens will be open from 6pm for picnicking, there'll be a mini beacon and children's torch processsion at 8pm followed by the Jubilee Beacon lighting and firework display from 10 - 10.30pm. Tickets cost £1 each and should be bought in advance.
See the National Trust website.
We hope you enjoy the parties, and don't forget to keep checking our what's on section for more Jubilee events, or log in and add your own events to the calendar.