Time to vote for our next Book Club read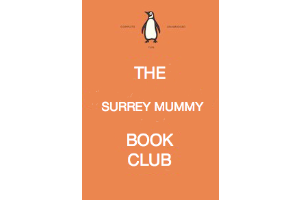 Welcome once again to the Surrey Mummy Book Club! This time we're going topical - earlier this week the shortlist for the Man Booker Prize 2011 was announced and we thought it would be good to vote on the six shortlisted titles.
I wonder if we'll pick the eventual winner (which will be announced on 18th October)?

The list below gives you the title and author of the books and a brief synopsis. Once you've chosen the book you'd most like us to read, click here to make your choice. The deadline for voting is 10pm on Sunday 18th September. We'll then have four weeks to read the book before coming together to discuss it.
It's the more the merrier and we hope that lots more of you will get involved this time and that we can get a really good discussion going.


Remember that you must be logged-in in order to view the voting buttons and you can only log in if you are registered on Surrey Mummy.

Click on the book title to view more information. You can also buy the book via this link.
The Sense of an Ending - Julian Barnes


Tony Webster and his clique first met Adrian Finn at school. Sex-hungry and book-hungry, they would navigate the girl-less sixth form together, trading in affectations, in-jokes, rumour and wit. Maybe Adrian was a little more serious than the others, certainly more intelligent, but they all swore to stay friends for life. Now Tony is in middle age. He's had a career and a single marriage, a calm divorce. He's certainly never tried to hurt anybody. Memory, though, is imperfect. It can always throw up surprises, as a lawyer's letter is about to prove. The Sense of an Ending is the story of one man coming to terms with the mutable past.

Jamrach's Menagerie - Carol Birch


Young Jaffy Brown never expects to escape the slums of Victorian London. Then, aged eight, a chance encounter with Mr Jamrach changes Jaffy's stars. And before he knows it, he finds himself at the docks waving goodbye to his beloved Ishbel and boarding a ship bound for the Indian Ocean. With his friend Tim at his side, Jaffy's journey will push faith, love and friendship to their utmost limits.

The Sister Brothers - Patrick deWitt


Oregon, 1851. Eli and Charlie Sisters, notorious professional killers, are on their way to California to kill a man named Hermann Kermit Warm. On the way, the brothers have a series of unsettling and violent experiences in the Darwinian landscape of Gold Rush America. Charlie makes money and kills anyone who stands in his way; Eli doubts his vocation and falls in love. And they bicker a lot. Then they get to California, and discover that Warm is an inventor who has come up with a magical formula, which could make all of them very rich. What happens next is utterly gripping, strange and sad. This is a novel about the things you tell yourself in order to be able to continue to live the life you find yourself in, and what happens when those stories no longer work.


Half Blood Blues - Esi Edugyan


This is a new part of an old story: 1930s Berlin, the threat of imprisonment and the powerful desire to make something beautiful despite the horror. Chip told us not to go out. Said, don't you boys tempt the devil. But it's been one brawl of a night, I tell you. The aftermath of the fall of Paris, 1940. Hieronymous Falk, a rising star on the cabaret scene, was arrested in a cafe and never heard from again. He was twenty years old. He was a German citizen. And he was black. Fifty years later, Sid, Hiero's bandmate and the only witness that day, is going back to Berlin. Persuaded by his old friend Chip, Sid discovers there's more to the journey than he thought when Chip shares a mysterious letter, bringing to the surface secrets buried since Hiero's fate was settled. In "Half Blood Blues", Esi Edugyan weaves the horror of betrayal, the burden of loyalty and the possibility that, if you don't tell your story, someone else might tell it for you. And they just might tell it wrong...

Pigeon English - Stephen Kelman


Newly arrived from Ghana with his mother and older sister, eleven-year-old Harrison Opoku lives on the ninth floor of a block of flats on an inner-city housing estate. The second best runner in the whole of Year 7, Harri races through his new life in his personalised trainers - the Adidas stripes drawn on with marker pen - blissfully unaware of the very real threat all around him. With equal fascination for the local gang - the Dell Farm Crew - and the pigeon who visits his balcony, Harri absorbs the many strange elements of his new life in England: watching, listening, and learning the tricks of urban survival. But when a boy is knifed to death on the high street and a police appeal for witnesses draws only silence, Harri decides to start a murder investigation of his own. In doing so, he unwittingly endangers the fragile web his mother has spun around her family to try and keep them safe. A story of innocence and experience, hope and harsh reality, Pigeon English is a spellbinding portrayal of a boy balancing on the edge of manhood and of the forces around him that try to shape the way he falls.

Snowdrops - A.D. Miller


Snowdrops. That's what the Russians call them - the bodies that float up into the light in the thaw. Drunks, most of them, and homeless people who just give up and lie down into the whiteness, and murder victims hidden in the drifts by their killers. Nick has a confession. When he worked as a high-flying British lawyer in Moscow, he was seduced by Masha, an enigmatic woman who led him through her city: the electric nightclubs and intimate dachas, the human kindnesses and state-wide corruption. Yet as Nick fell for Masha, he found that he fell away from himself; he knew that she was dangerous, but life in Russia was addictive, and it was too easy to bury secrets - and corpses - in the winter snows...