| | | | |
| --- | --- | --- | --- |
| Sisters are doing it for themselves | | | |
Written by Lisa Walker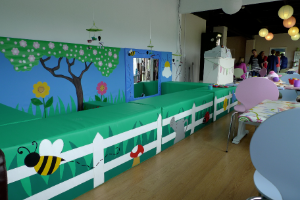 A soft play cafe without a chip or plastic chair in sight is the unique concept that has turned into a successful business for two sisters.
We all know how hard it can be to get the balance right as a mum. Should we go back to work full-time, part-time, not at all?
Surrey Mummy has come across a few mums who have solved the problem by setting up their own business to fit in and around family life.
In the latest in our series, we talk to Jo Camacho and her sister Nicola Hamilton, who have sta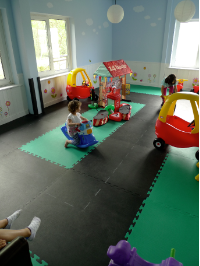 rted the unique Ragamuffins play café in Esher.
Kids love soft play areas, mums love to have a relaxing cup of tea or coffee in a relaxing and pleasant environment. Jo, 31, and Nicola, 34, recognised a gap in the market for a facility that combines these two things, and a year later their business is a roaring success.
Jo was a marketing manager when she had her son Jamie, now 18 months. She was thinking about returning to work when the idea for the play café came up.
She said: "My old work did want me back and they created a new job for me part time, specifically for me. They were quite keen to have me back and it was a bit of a shock when I said I was not coming back; they valued me and I valued them.
"I would have had to go back in some form, financially, but I always wanted to be with Jamie and did not want someone else to see his first steps and his first word. It is really hard to get the balance right. If it had been any other business I would not have been able to have him at work with me.
She said Jamie loves being in the café with her every day, adding: "He is quite happy to mix and he makes new friends every day."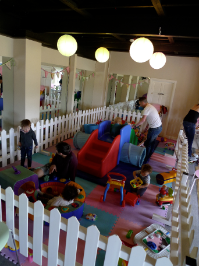 She said of Ragamuffins: "We wanted to provide somewhere relaxing. It is more for mums. They can sit back and have a coffee and the kids can have fun.
"We both love shabby chic style and we wanted somewhere where mums can feel at home, in a healthy environment, not plastic, not a chip in sight. We wanted to pick and choose the nicest things."
She said it was a conscious decision not to do fried foods, and the menu is a refreshing mix of kids' platters, salads, sandwiches and jacket potatoes.
Their café has a play area on one level, aimed at pre-schoolers and made up of more traditional toys as opposed to a play structure. The tables and chairs are "shabby chic" style painted wood and there are pretty cups and saucers to finish the look.
Jo and Nicola were both fed up with having to climb into big play structures to rescue children during soft play visits, and were keen to avoid this kind of set up. There is also a separate area for babies to lie in.
Another criteria for their establishment was that mums and carers could feel spoilt and relaxed and could forget their changing bag and not have to rush off home again.
Nappies, cream, wipes and breast pads are all provided in the changing room and milk, bottles and decent quality baby food can be bought. Bibs are also provided.
Nicola, who has been a nanny for 10 years, said they are hoping their idea will take off and they will be able to open more cafes in the Surrey area, maybe even franchising in the future.
She said: "It is going really well. Rainy days are brilliant. It has just been word of mouth and a little bit of advertising. We see new people every day and have an average of about 30 people a day. The maximum we have had has been 53.
"The feedback has been really good, people like the fact that we keep the toys clean, and say it is nice to have somewhere to go that is clean.
"I love working here. It is nice to have something for yourself."
Nicola runs drop-in music sessions at the café on Mondays and Tuesdays at 10.30am, and on Fridays at 3pm.
Ragamuffins is located in the Sandown Park Golf Centre, Esher. A great location with lots of parking and next door to a golf course and range, ideal if one of you wants to pop out for a quick round!
You can read Surrey Mummies' reviews for Ragamuffins - click here to go straight to their listing.
The Ragamuffins website is http://ragamuffinsplay.co.uk/