Join our new Surrey Mummy book club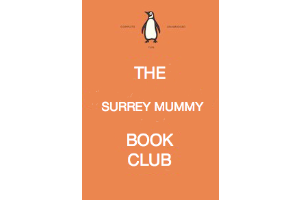 As was said a few months ago in a chat on Surrey Mummy, most of us love reading if we get a chance. We wanted to hear about everyone's favourite reads and recommendations. The topic was a popular one, culminating in a suggestion to start a 'virtual' book club on Surrey Mummy!
AlexBea took the mantle and volunteered to run the book club and has been busy coming up with the first set of choices and kicking it all off..
We thought we'd kick off with a selection of Summer Reads. The list below gives you the title and author of the books and a brief synopsis. Once you've decided which book you are choosing, click on this link to VOTE for your choice. The deadline for voting is 10pm on Saturday 9 June.
Please note that you must be logged-in in order to view the voting buttons and you can only log in if you are registered on Surrey Mummy.
The Book Club works as follows: The list of books to choose from will be posted in the Book Club section of the chit-chat forum. Those who wish to participate will be given a week to vote for their preferred book. We will then have four weeks to read the book. A date will be set after which we can start discussing the book (hopefully giving those reading enough time to finish and avoid spoiling the ending!) We have decided that in the beginning we will have an unlimited time period to discuss the book and participants can log on as and when it is convenient to them to join the discussion.
After a couple of weeks we'll set a new theme and pick another book from another list.
The Slap - Christos Tsiolkas

At a suburban barbecue, a man slaps a child who is not his own. The reverberations call into question the relationships between all those who witness it. The novel presents 'the slap' from eight very different perspectives and, as the cover asks, whose side will you be on? The book is an unflinching interrogation of our lives today; of the modern family and domestic life in the 21st century, a deeply thought-provoking novel about boundaries and their limits... A controversial and award-winning page turner.
The Summer Without Men - Siri Hustvedt


After Mia Fredricksen's husband of 30 years asks for a break - to pursue a young French colleague - she decamps to her prairie childhood home. There, gradually, she is drawn into the lives of those around her: her mother's circle of feisty widows; the young woman next door; and the diabolical teenage girls in her poetry class. By the end of the summer without men, Mia knows what's worth fighting for - and on whose terms. A tragi-comedy about women and girls, love and marriage, and the age-old war between the sexes.
Skippy Dies - Paul Murray

Skippy and Ruprecht are having a doughnut-eating race one evening when Skippy turns purple and falls off his chair. And so begins this darkly tragic yet comic novel set in and around Dublin's Seabrook College for Boys. Principally concerning the lives, loves, mistakes and triumphs of overweight maths-whiz Ruprecht Van Doren and his roommate Daniel 'Skippy' Juster, it features a frisbee-throwing siren called Lori, the joys (and horrors) of first love, the use and blatant misuse of prescription drugs, Carl (the official school psychopath), and various attempts to unravel string theory ...while at the same time exploring the very deepest mysteries of the human heart. Nominated for Man Booker Prize 2010.

The Hand That First Held Mine - Maggie O'Farrell


The stories of two women in the 1950s and the present day whose lives, although separated by 50 years, are connected in ways that neither could ever have expected. When the sophisticated Innes Kent turns up on her doorstep, Lexie Sinclair realises she cannot wait any longer for her life to begin, and leaves for London. There, at the heart of the 1950s Soho art scene, she carves out a new life. In the present day, Elina and Ted are reeling from the difficult birth of their first child. Elina struggles to reconcile the demands of motherhood with sense of herself as an artist, and Ted is disturbed by memories of his own childhood that don't tally with his parents' version of events. As Ted begins to search for answers, an extraordinary portrait of two women is revealed, separated by 50 years but connected in ways that neither could ever have expected. A story of love and motherhood and the winner of the Costa Novel Award 2010.


JUMP - Jilly Cooper

A fabulously entertaining romp through the world of jump racing. In "Jump!" you will meet rich, capricious owners, obsessive trainers, gallant stable lads and lasses and tough, brave jockeys. There's no-one else like Jilly Cooper for such entertaining storylines and brilliant characters. "Jump" delivers on both these things. There's a great new cast of characters to love and hate, along with a sprinkling of old favourites. The ultimate guilty pleasure & perfect summer read?

A Visit From the Goon Squad - Jennifer Egan


Pulitzer Prize winning novel about an aging rock music executive, his one-time assistant, Sasha, and their various friends and associates. Although Bennie and Sasha never discover each other's pasts, the reader does, in intimate detail, along with the secret lives of a host of other characters whose paths intersect with theirs, over many years, in locales as varied as New York, San Francisco, Naples, and Africa. The book follows a large cast of mostly self-destructive characters as they grow older and fate sends them in directions they did not intend to go. The stories shift back and forth in time, moving from the late '60s to the present day and into the near future.