Afghan mothers lose their lifeline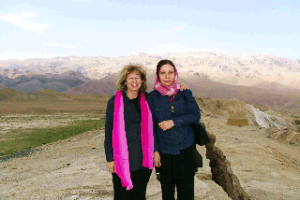 Afghanistan is the worst place in the world to be a mother according to a list compiled by Save the Children, yet one of the only lifelines for Afghan mothers has been taken away due to cutbacks.
The BBC World Service Afghan Woman's Hour programme literally changed lives for women in Afghanistan, and now it has been axed.

Award-winning political journalist Lesley Abdela MBE, (pictured left in Barman, Afghanistan) has seen first hand just why the programme was so important, and here she tells us why:
The World Index of best and worst places to be a mother, compiled by Save the Children, looks at health, education and economic conditions for women and children in 164 countries. The UK is number 13 on the list of best places and Afghanistan is listed as the worst place.
The fact that Afghanistan is officially the worst place in the world to be a mother has refuelled my anger at the decision to cut the BBC World Service Afghan Woman's Hour. The programme, in local languages, was a lifeline for millions of women – many of whom are illiterate and depended on the programme as their one source of a voice for women.
I know first hand the conditions of Afghan women. I was out there, boots on the ground, in Kabul and Bamyan. First time was with the UN Population Fund (UNFPA) to run a workshop for women and men working with the Afghan Ministry for Women's Affairs. My second visit was as an independent consultant to write an assessment on the situation of women in Afghanistan for an organisation working with local communities.
The radio programme was a trusted friend for mothers in Afghanistan. A popular topic was the stigma experienced by a mother if she gave birth to a daughter rather than a son (no one ever blames the husband!– it used to be like that in the UK too). An Afghan mother of four daughters said on the programme: "Every time I've given birth to a girl my husband disappears from the house for days. I've even heard of fathers who haven't as much as held their baby girls for a year, or spoken to their wife for months because they believe she was to blame for giving birth to a girl."
Experts were invited on the programme to give professional health advice. For many women this was the only source of professional health advice available. In Afghanistan, just 14% of births are attended by professionals. One woman in 11 dies in pregnancy or childbirth in Afghanistan; this compares to one in 4,700 in the UK. The average Afghan woman does not live to see her 45th birthday; in the UK the average age for a woman is 82. In the UK, 80% of women use contraception compared to less than 16% in Afghanistan. Another shocking statistic is that one Afghan child in five dies before reaching five years of age.
The Afghan Woman's Hour programme was costing less than £75,000 per year to run and yet was one of the mostly widely listened to radio programmes in Afghanistan. It was part of a profoundly influential project that gave support and education to millions of women and men across Afghanistan.
The programme helped women and men become aware of women's human rights. Fatima, from Pul-e-Khumri, told the programme: "I have been listening to Afghan Woman's Hour for almost four years. I have benefited from it so much. In my village women get together to listen to the programme. They finish their chores quickly so they have time to listen to the friendly words and interesting stories. I have learnt about other women's lives. I heard the story about the woman who was given away to settle a dispute with another family. From listening to the programme I realised there are other ways to end a disagreement, like giving animals or money. As a result, in my village, a local family has decided to offer the other family money instead. This is a big step that we women have made to stand up for rights and understand that, even though we have suffered, there's no reason for our daughters to have to go through the same experience; we can prevent it."
Hundreds of women from across Afghanistan were eager to share their stories on air. Mothers in Surrey (and elsewhere) can read their stories in a book by Zarghuna Kargar producer/presenter of the BBC Afghan Woman's Hour. Titled 'Dear Zari' (published by Chatto and Windus) the book gives the stories of 13 women who spoke on the programme. Zarghuna Kargar, an Afghan woman now living in London, also tells her extraordinary life story in the book.
What you can do?
Surrey Mummies  -  You can write to the Foreign Secretary William Hague and/or Lord (Chris) Patten, Chair of the BBC, and tell them that as mothers you want to see the BBC Afghan Woman's Hour programme reinstated to help mothers in Afghanistan.
Rt Hon William Hague -Secretary of State for Foreign and Commonwealth Affairs , Foreign and Commonwealth Office, King Charles Street, London SW1A2
Lord Chris Patten, Chair BBC Trust, 180 Great Portland Street, London W1W 5QZ
Email This e-mail address is being protected from spambots. You need JavaScript enabled to view it
Telephone Call the information line on 03700 103 100 or textphone on 03700 100 212.
2011 Mothers' index rankings: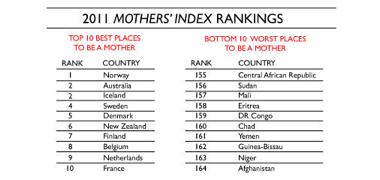 Source  Save the Children www.savethechildren.org/site/c.8rKLIXMGIpI4E/b.6748295/k.BE47/State_of_the_Worlds_Mothers_2011_Statistics_and_Facts.htm
A bit more about Lesley:
Lesley won the 2009 UK Woman Political Journalist of the Year, voted by Members of Parliament, the House of Lords and the Parliamentary Press Lobby.
She has also worked in over 40 countries as an expert consultant advising governments, international organisations and civil society on democracy, women's human rights, gender and post-conflict reconstruction. She is vice president of the Electoral Reform Society, a former board member of the British Council and the International Institute for Environment and Development.
Lesley gives talks on UK and global affairs, adventure and inspiration.
You can follow Lesley on Twitter and read more about her on her Wiki page.
© copyright June 2011 Lesley Abdela