surrey mummy listings
The Lightbox Museum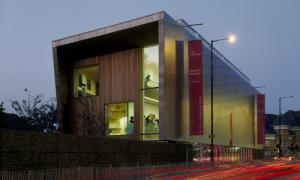 Art gallery and museum, closed on Mondays. Holds regular drop-in family workshops.



Categories: Rainy days | Museums



Phone:

01483 737800

Email:

This e-mail address is being protected from spambots. You need JavaScript enabled to view it



Website: http://www.thelightbox.org.uk

Address: Chobham Road,
Woking,
Surrey,
GU21 4AA

Beautiful party venue
on January 26, 2011
My children attended at arts & crafts birthday party here which they really enjoyed - a gorgeous and very different venue for a children's party. They came away with some lovely masterpieces too.

Whilst they were there I took the opportunity to explore the museum and have a coffee and browse in the shop. Really enjoyed the Escape to Wonderland: A History of Children's Book Illustration which was on at the time. Definitely somewhere you could while away an hour or two, with or without your children in tow.
Highly recommended
on January 26, 2011
Last summer we took our little one (then 4 years old) to 2 workshops.

One was free of charge (optional donation), there were instructors (who published a children's book) teaching children how to draw characters.

The other one we needed to pay a small fee, and the kids were taught to make a pop up book.

A lot of thoughts have been put into organising these workshops, and I really appreciated their effort.

Really surprised that you don't need to pay a fortune for your kids to learn something new.
Date added: 11.10.2010 Hits: 1329