surrey mummy listings
The Look Out Discovery Centre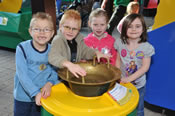 Science centre, Go Ape! high wire, adventure playground, walks, cycle trails and cafe.



Categories: Family Walks & Cycles | Rainy days | Parks & Playgrounds | Outdoor Adventure | Museums



Phone:

01344 354400

Email:

This e-mail address is being protected from spambots. You need JavaScript enabled to view it



Website: http://www.bracknell-forest.gov.uk/thelookoutdiscoverycentre

Address: Nine Mile Ride,
Bracknell,
Berkshire,
RG12 7QW

Excellent interactive exhibition.
on August 8, 2011
This is a great place for a day out. Venture beyond Surrey into Berkshire to the Look Out and you'll find a large and excellently equipped adventure playground, plentiful picnic tables, cafe, excellent facilities and beautiful surrounding forestry. All for free. The science exhibition (prices apply) is probably best suited to 4-11yr olds but younger and older ages will still be entertained. Some excellent interactive exhibits and you can climb to the top of the look out for some great views. Well worth a visit during these long summer holidays!
Forest fun
on January 7, 2011
We love going here to walk and play in the forest and use the adventure playground, which includes a big wooden fort. There is a coffee shop, ice cream kiosk and loads of picnic tables. You can use all this for free if you don't want to go into the science exhibition.
Date added: 15.10.2010 Hits: 2039