surrey mummy listings
Act One Parties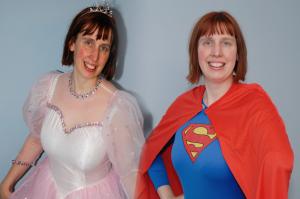 Performance, adventure & craft-themed parties for 2-11 year-olds.
Categories: themed entertaines | performance parties | craft parties
Phone:

07956 182488
Email:
This e-mail address is being protected from spambots. You need JavaScript enabled to view it
Website:
http://www.joannemcgowan.co.uk
Amazing Act One Parties!
on July 9, 2012
This is the second time I have used Joanne and I can't recommend her highly enough; she is brilliant and a consummate professional. Her parties run like clockwork which takes all the pressure off the hosts. The disco theme was really good fun with disco dress up, megamix dance routines, inflatable guitars to rock out with, together with traditional party fun meant the children's attention was held for the whole two hours & my daughter loved every minute of it. Joanne clearly loves what she does & the children just have so much fun! I wouldn't hesitate to use her again!
A perfect entertainer.
on January 18, 2011
Joanne was brilliant. She took control of the entire party, welcomed the children, provided activities before getting into full swing with imaginative & themed party games, activities and prizes. She came in costume inline with our chosen theme and kept amazing control of 30 (sometimes unruly) 5 year olds. I honestly thought she was excellent and it left me with nothing to stress about. Highly highly recommended. :)
Date added: 13.1.2011 Hits: 606