surrey mummy listings
Sir and Madam Thai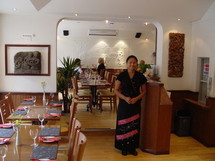 Tasty Thai with child-friendly staff.



Categories: Guildford area



Phone:

01483 535025

Email:

Address: 8-9 Jeffries Passage,
Guildford,
Surrey,
GU1 4AP

disappointing food
on August 8, 2011
We visit Sir & Madam Thai couple of times when they first opened. I do recollect their food were quite nice in those days.

Visit them again on Saturday lunch recently and it all changed.

The starter is still good, but the main course is ordinary and unexciting.

The worst is the children meal. We order a chicken noodle for the little one. When it arrived, it was just plain boiled noodle with a few pieces of chicken without any taste.

One would expect a meal should include some vegetable, especially Asian food are always focus on healthy balance ingredient. But there was none.

I hate resturant that serve rubbish children meal just because the kids may not be able to complain.
best takeaway
on April 11, 2011
We like this Thai restaurant to both eat in and takeaway (in my opinion the best Thai takeaway in Guildford). We have taken our pre-schooler there early evening and they were very welcoming. He enjoyed a crispy chicken dish and rice and went home with a bag of prawn crackers.
Date added: 11.4.2011 Hits: 329