surrey mummy listings
Nando's - Guildford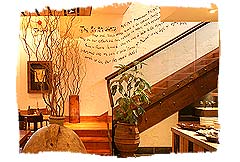 Family-friendly restaurant specialising in chicken dishes from Portugal.



Categories: Restaurants | Guildford area



Phone:

01483 568 083

Email:

Website: http://www.nandos.co.uk/restaurant_122/REST/Guildford_.html

Address: 1-12 Friary Street,
Guildford,
Surrey,
GU1 4EN

Delicious
on May 8, 2011
The food here is great. It's definitely good if you feel like a change of taste, as the peri-peri chicken is not something we would cook at home.

Good options for children too.
Caters well for adults and children
on February 28, 2011
My husband and I have been eating at Nando's even before the kids were born! Now both our daughters enjoy the little nandinos menu. mine always have the chicken strips with fries or the chicken burger. The frozen yogurt dessert is quite a refreshing change from ice cream and is a healthy option as well as tasting fab.
As for adults the chicken in a pitta with cheese is my favourite. You can have the food as mild or as hot as you can handle it. The peri peri chips are great with the mayo and peri dip. In summer the sangria (for adults) is not bad either.
Date added: 11.2.2011 Hits: 138