surrey mummy listings
La Luna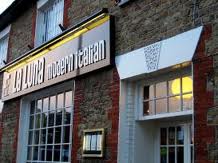 Modern Italian restaurant.



Categories: Restaurants | Godalming area



Phone:

01483 414155

Email:

Website: http://www.lalunarestaurant.co.uk/

Address: 10 - 14 Wharf Street,
Godalming,
Surrey,
GU7 1NN

Fine dining in the heart of Godalming
on April 7, 2011
A gem in Godalming. An excellent Italian that serves food to the
highest quality. Produce is sourced locally and has a wide range of
wines on offer too. I've eaten here a few times with my husband and with the children during lunch time. He is vegetarian and finds that La Luna still manages to offer a good selection of vegetarian meals. The lunch menu is great, and changes with the seasons.
The fish choice is wonderful as is the starters especially the Arancini. My children have had the pasta there and they enjoy that every time. A fine dining experience in Godalming.
Date added: 12.2.2011 Hits: 64