surrey mummy listings
Giraffe - Guildford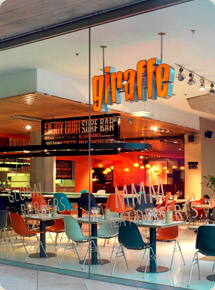 Freshly prepared food for kids and adults and there is no shame in taking noisy children!



Categories: Restaurants | Guildford area



Phone:

01483 300237

Email:

Website: http://www.giraffe.net/restaurant/guildford

Address: 215-217 High Street,
Guildford,
Surrey,
GU1 3BJ

Great for Adults too
on February 10, 2011
My two girls love this place. They go there mostly with their dad,
so I get a break. He always raves about the vegetarian dish with the refried beans and cheese. The girls love their breakfast dishes.
It is very child friendly and worth going to. We seem to have an endless collection of different coloured giraffes! Register online and look out for their excellent offers.
Family friendly restaurant
on February 2, 2011
Family friendly restaurant in the heart of Guildford. Convenient for parking.

The children's meal is rather nice and my daughter loves it.

Even more worthwhile when you have their discount vouchers which they issue very often on their website.
Giraffe - Guildford
on January 19, 2011
My 7 year old loves eating here. He has quite a collection of different coloured plastic giraffes from each visit. Staff there are very good with the kids. If you register with them online, you get emailed some very good offers which saves money on your bill.
Date added: 16.10.2010 Hits: 484