surrey mummy listings
The Bramley Cafe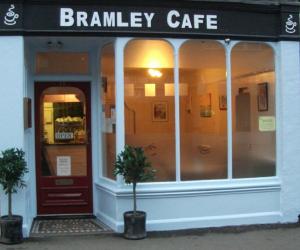 Kids menu plus kids books and garden with trampoline.



Categories: Cafes



Phone:

07504 792597

Email:

Website: http://www.bramleycafe.com

Address: 4A High Street,
Bramley, Guildford,
Surrey,
GU5 0HB

Lovely informal tearoom with garden!
on June 5, 2011
We cycled form Cranleigh to Bramley along the old railway line and stopped off for lunch and coffee here after reading about it on Surrey Mummy! Would not have known about this otherwise!

They have a very extensive menu, kiddies lunch boxes and kids hot menu and everything is made fresh to order. Bikes can be safely stored in the garden, ask for the key at the front desk. We spent a relaxing hour enjoying lunch in the sunshine in the garden and resting before setting back down the cycle path for Cranleigh.
Date added: 21.5.2011 Hits: 300