Surrey Mummy is loving...Lakeland heated airer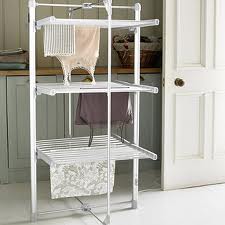 We are determined to stop moaning about this awful summer weather, but before we do, can we just say: how on earth are we supposed to dry our washing?
It's fine in the winter when the heating is on; you can throw things over radiators or in the airing cupboard. But during the wet summer it is impossible.
We have had to resort to the tumble dryer a few times recently but we hate using it because it burns up electricity, makes the house stuffy and shrinks t-shirts!
That is why we are currently loving Lakeland's Dry-Soon 3-Tier Heated Tower Airer. It is much cheaper to run than a tumble dryer (less than 5p an hour) and has folding shelves, so you can use it in different formats, depending on what you are drying.
You can get a lot of washing on this at one time and it doesn't take up too much space in the house. A great little invention!
The dryer retails at £84.99 and is exclusive to Lakeland. It might seem expensive for a dryer, but we think savings will soon be made on the electricity bill.
Check it out on the Lakeland website.