Written by Lisa Walker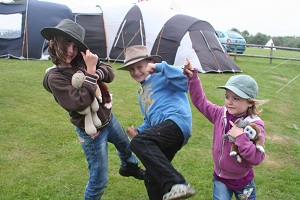 Sleeping under the stars, toasting marshmallows round a campfire, lots of wholesome outdoor fun…there are plenty of reasons why camping is becoming an increasingly popular family holiday.
Of course, in the current economic climate, it is also a much cheaper alternative to holidaying abroad.
For children, camping can be a huge adventure where they get a lot more freedom and independence to roam outdoors, make dens, light a fire and so on.
Tents come in so many different shapes and sizes these days, you can almost live in luxury on the campsite if you want to. The list of camping accessories and gadgets is also endless, so you don't need to 'rough it' if that is not your style.
The variety of campsites on offer is also vast, ranging from holiday parks with swimming pools and clubs to basic facilities in a field, so there is certainly something to suit everyone.
We have picked the brains of a few Surrey Mummies who go camping to find out why they love it so much and to get some top tips.
Avril Itani said: "I think camping is an ideal family holiday because it is good value for money.
"There are some lovely campsites in this country and it makes you realise how much you can enjoy the simple things in life away from home and the technical era we live in.
"Children love it, they are outdoors getting plenty of fresh air and exercise and they think it is one big adventure.
"It is nice to know that you can pack the car up and just go for a weekend away if you feel like it."
Jane Tipton said: "You come home from a camping trip feeling like you have had loads of fresh air and a real break from normal life – a real change of scenery.
"It can be physically tiring sometimes, but you feel like you have been so far removed from the stresses and strains of normal life. It is a real tonic.
"You don't have to nag at the kids because anything goes and there is nothing to achieve. They can get dressed when they want, eat when they want and just have lots of freedom."
Joanne McGowan said: "We love camping as a family as you get to totally relax away from everyday distractions like email and mobile phones and just concentrate on everyday pleasures.
"We also love how when you get up you can be straight outside, which is bliss on a sunny morning. If you are going with other families it is lovely to see the children playing really simple games and just enjoying each other's company."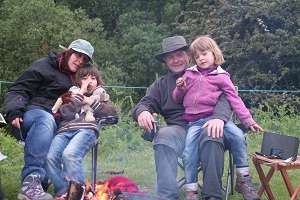 Top tips for stress-free family camping
Keep a list on the computer so you can easily do a quick checklist when packing.
Keep as much stuff packed and ready to go as possible. Arrange boxes containing useful items, so you don't have to keep using up your own household stocks: washing up liquid and bowl, matches, tea towels, cutlery, kitchen towels, baby wipes, anti-bacterial gel, bottle opener, batteries etc.
Get the children into the habit of putting wellies on first thing in the morning otherwise you will end up with lots of pairs of pyjamas that are wet and dirty round the bottoms.
Don't go to bed ridiculously late because you will be woken early by the noise of other campers, children, birds and the need to go to the loo.
Plan your meals before you go and find out where the nearest supermarket is. You can then easily do a food shop once you have arrived and pitched up (or while your husband pitches the tent!). Alternatively, do an online shop before you go and arrange for your shopping to be delivered to the campsite (subject to permission from campsite owners).
Don't let the rain stop you from having fun. Kids love playing in all weathers and their skin is waterproof!

Make sure you pack their wellies and waterproof trousers/jackets. Water pistols and water balloons always go down well and you can always have a water fight in waterproofs!
Pack some travel games, card games and bubbles for the kids.

When you arrive, lay down some ground rules about where the children can and can't go. Use walkie-talkies, so that you can contact them when you need to. They will love this independence.
Plan a night walk. Check out nearby woodlands and pathways (in daylight) and equip everyone with a torch or headtorch. Get the children to listen out for nocturnal wildlife.
Enjoy a campfire. Not all campsites will allow fires, but there are plenty out there. You can hire a fire pit from them, or take your own.
Showers can be busy and messy in the mornings and the hot/cold water supply is unpredictable. Try going for a shower in the afternoon, when they are normally quiet, the water is just right, and they will have been cleaned from the morning's rush.
Do your research to make sure the campsites you are interested have the facilities you are looking for.
Take lots of layers - even on warm days it can get surprisingly chilly in the evenings.
Be prepared for kids' routines to go a bit haywire - in a good way. With the light evenings under canvas it will be quite hard for little ones to get to sleep at their normal time. If you go to a good family campsite there will be lots of kids up to play with and no one will mind children playing.
When setting up and taking down your tent, have plenty of snacks and activities for the kids. Older children could have a job (laying out tent poles etc) or give younger children a sticker book to keep them busy.
Try to buy camping equipment at the end of the season. Most websites and suppliers will reduce their prices as they get ready to bring in the new tents for the following season.

Top tips for must-have items/gadgets
Little fold-up toilet to use in the night – similar to the porta potty, where you attach a bag, but higher up so it can be used by adults or children. Bag can be quickly disposed of in the morning and saves tramping across a cold field in the middle of the night or early in the morning.
If you have a big enough car boot, invest in a camp fridge. They can be powered via electric hook-up or camping gas. If not, most good campsites will have a fridge and freezer on site for your use.
Buy a decent camp stove with a grill. Camping is no longer about heating up a tin of beans over a fire, or eating a pot noodle....

Many decent meals can be cooked on a camp stove.

Crocs are really handy for slipping on and off to go to the loo or for wearing in the shower. Combats are better than jeans as they are easier to dry.
Invest in a decent tent. Do some research online and visit a camping outlet for advice. It may cost more initially, but will last longer and hold up to the British weather. Buy a tent that you can stand up in with "lounge" space so that you can sit inside should you need to.
Buy decent sleeping bags. There is nothing worse than being cold at night.
For us mummies who like to look our best even when we are camping, buy a dry shampoo spray. This keeps your hair feeling clean and smelling fresh in between hair washes!
Children tend to keep sliding off the inflatable single beds when they are in a sleeping bag, so try getting one with sides or a double if you have the space.
Some good bottles of wine and some "camping brandy" to add to hot chocolate - an essential for keeping warm in the evening.
Happy camping!