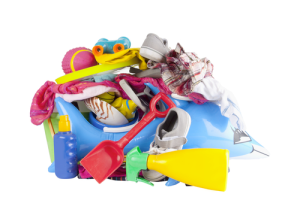 Lots of us will now be desperate to escape this dreadful weather and will be starting to think about our summer holidays. With so many things to remember before you travel, it's sometimes hard to know where to start. With this in mind, we've put together a handy checklist for you.
Hopefully it will help reduce the stress of packing and preparing for your trip. We've given you a full list of all the essentials, plus the option to add some items of your own. We've included sections for the beach and also camping essentials and nice-to-haves. You may not need all sections or items for each specific holiday so feel free to cross out what you don't need.
We have also posted this in our Lists forum within Chit-chat, so you'll be able to access it throughout the year.
Happy holidays!

Click the button above to download the pdf version of the Holiday Checklist. You can print it off and use to make sure you pack all you need.
An extra note regarding passports: You should also check when your passport is due to run out and whether it is nearly full. Some countries will not let you enter if your passport has less than six months to run. The rules vary by country. For example, South Africa will turn people away if their passport has fewer than two blank pages left.

If your passport is in its last year or nearly full, you should check the rules of the countries you plan to visit before booking. You can ask your travel agent or check with the embassy of the country concerned.
Holiday Checklist
Before you go:
Check passport is valid
Check holiday insurance
Arrange car hire
Vaccinations
Make phone number list for hotel/villa/campsite/care hire company
Pay bills
Car (oil, tyres, water screenwash etc)
Pet care whilst away
If going abroad:
Tell your bank or credit company
Pre-book taxi to station/airport
Arrange airport parking
Visa applications
Before you leave:
Water the plants
Empty fridge of food that will go off whilst away
Empty the bins
Cancel milk and/or papers
Lock doors and windows
Set timers for lights
Draw curtains upstairs
Switch on voicemail/answering machine
Switch off alarm clock
Turn on burglar alarm
Leave key and contact details with neighbour
Extras of your own:

Essentials:
Credit cards
Holiday insurance documentation
Car hire documentation
Holiday home keys
Contact numbers
Holiday address
Directions
Copies of paperwork and property details
Driving licence
Other ID
Personal house/car keys
Car breakdown policy
Photocopies of passport/insurance
Itinerary
Maps/road atlas
Sat Nav
Sports licences/documentation
If going abroad:
Passports
Visas
Flight/ferry tickets
Foreign currency
European Health Insurance Card
Airport parking ticket
Personal essentials:
Mobile phone & charger
Watch
Camera
Glasses/contact lenses
Medication
Personal dietary requirements
Extras of your own:
Clothes:
Shorts
T shirts
Shirts/tops
Trousers
Jeans
Skirts
Dresses
Jumpers
Sweatshirts
Bras
Pants
Vests
Socks
Walking socks
Tights
Swimwear
Nightwear
Dressing gown
Slippers
Shoes
Sandals
Flip flops
Trainers
Walking boots
Coats/jacket
Waterproofs
Accessories:
Sunglasses
Sunhat
Belt
Handbags
Jewellery
Linen:
Towels
Beach towels
Baby extras:
Travel cot
Travel highchair
Buggy
Buggy sunshade (and raincover, if sun not guaranteed)
Baby backpack
Baby sling
Baby car seat
Car booster seat
Baby clothes
Disposable nappies
Changing mat
Changing bag
Portable potty & liners, if potty training
Nappy cream/wipes/bags
Baby shampoo/soap
Bottles
Sterilising equipment
Powdered milk
Baby food
Plastic plate/bowl/mug
Plastic cutlery
Dummies
Bedding/Gro-bag
Night light
Monitor (both parts)
Story books
Toys
Don't forget baby!
Children's extras:
Favourite cuddly toys
Reading/bedtime books
Activity books/scrapbooks
Medical stuff:
Prescribed medicines (eg inhalers)
Small first-aid kit (thermometer, antiseptic cream/wipes, tweezers, plasters, Burneeze, Waspeez)
Paracetamol/Nurofen
Diarrhoea medicine
Rehydration sachets
Hayfever tablets
Antihistamine tablets
Travel sickness pills
Vitamins
Suncream\aftersun
Lip protector/balm
Insect repellant/bite cream
Mosquito net
Vaseline
Waterproof plasters
Tissues
Safety pins
Contraception
Bathroom stuff:
Hairbrush/comb
Hairdryer
Hair straighteners
Curling tongs
Hair accessories
Travel mirror
Nail file/emery board
Nail scissors/clippers
Nail brush
Tweezers
Shampoo & conditioner
Toothbrushes & toothpaste
Flannels/sponge
Soap/shower gel
Razors/shavers
Perfume/aftershave
Deoderant
Toothbrush
Toothpaste
Electric toothbrush/charger
Dental floss
Beauty products
Moisturiser
Nail varnish
Make-up/brushes
Make-up bag
Toilet paper
Female hygiene products/tampons
Wet wipes
Wash bag
Beach/sports:
Windbreak
UV tent/sunshade
Bucket and spade
Sports equipment
Wet suits/UV suits
Snorkel
Flippers
Goggles
Beach mats
Lilo
Inflatable dinghy
Surf/body board
Arm bands/inflatable jacket
Frisbee
Kite
Picnic blanket
Picnic box
Beach bag
Folding chairs
Cool box
Ice packs
Thermos flask
Electrical stuff:
Camera
Adaptors
Camcorder
iPods/Nintendos
Headphones
DVDs
CDs for car
Computer games
Mobile phone & charger
Travel iron
Travel kettle
Laptop
Spare memory sticks
Miscellaneous:
Travel alarm clock
Torch
Hand held fan
Batteries
Pen & paper
Playing cards
Board games
Books
Magazines
Guide books
Phrase book
Map
Travel belt
Address list
Diary/notebook
Personal organizer
Small sewing kit
Padlock & keys for luggage
Luggage strap locks
Binoculars
Backpack
Water bottles
Compass
Umbrella
Flight essentials:
Support socks
Travel pillow
Earplugs
Eye mask
Boiled sweets
Reading material
Travel games
Motoring essentials:
Emergency triangle
Car jack
GB sticker
Yellow headlights
Map
Camping Packing Checklist
Essentials:
Tent
Poles, pegs, mallet, line, repair kit
Picnic table & chairs
Inflatable mattress/airbeds
Sleeping bags & duvets
Pump
Pillows & extra blankets
Powerful torch
Warm pyjamas
Cooker
Kettle
Brew kit for making hot drinks
Pans
Cutlery
Crockery
Plastic bowls
Flask
Washing up bowl
First aid kit
Citronella candles
Rigid coolbox
Storage baskets (foldable or pop-up)
Clothes line & pegs
Wellies
Waterproofs
Hats & gloves
Plastic bags
Toys, paper, pens & emergency treats
Several buckets inc. one with lid (night-time loo)
Electricity adaptor
Can opener
Tea towel
Washing up liquid
Firelighters
Water bottles
Nice extras:
Box of wine
Corkscrew/bottle-opener
Gazebo
Spare tent
Hot water bottles
Earplugs
Sarongs
Cheap doormat (stop mud in the tent)
Windbreak
Extra batteries
Proper teacups
Little fridge
Salt and pepper