Advertise on Surrey Mummy from £5 per month
Surrey Mummy is a great place to advertise if you run a local business and your target audience is families, parents and/or children.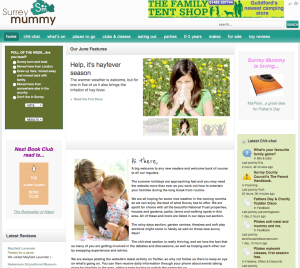 As a website aimed specifically at Surrey families, we have hit the ground running over the past 18 months and we just keep getting more and more popular!
Monthly total visits: 20,000
Monthly unique visitors: 15,000
Monthly page impressions: 70,000
Twitter followers: over 4,000
If you want to make the most of tapping into our target audience, you may consider one of our more popular options.
Homepage top banner*: Highly visible banner advert right at the top of the homepage that clicks straight through to your website.
Promotional feature: You provide the copy and images and we will showcase your feature on our homepage for two weeks.
Listings mini-ad: Mini-sized advert on the page you are listed on, thus enhancing your presence and increasing the likelihood that visitors will choose to seek more information from you.
Newsletter editorial: You can take one of the spots in our newsletter to promote your business, product or event. You get an advert title plus 30 words of text (including a website link) and an image.
We have other banner advertising spots available throughout the website.
* this spot could be shared between up to a maximum of three advertisers.

You will also benefit from our social networking resources, as we Tweet and Facebook everything!
For a Media Pack and to discuss further, please click to send Penny a message.